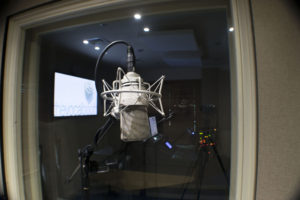 The Vocal Booth is dedicated to providing creative solutions and high quality audio services for all of your needs in film, broadcast and multi-media. Our experienced team can help you make the right decisions to ensure that your production has the sound it deserves.
ADR,Voiceover, Audio Dub
Location recording for TV and film.
Audio post production and sound design
ISDN and Source Connect  
Music composition and production.
Alan Watson and Mike Moran have traded as audio specialists (live, location and post production) and music producers/composers for over twenty five years. During this time they have successfully developed careers in media and popular music genres. In recent years they have combined their audio production and music skills eventually developing The Vocal Booth, a specialist audio service for film, television and electronic media. The Vocal Booth has become the first choice for many UK producers, directors and production companies.
Between them they have recorded for major record companies and appeared on numerous commercial recordings, tours and theatre shows as performers, composers, musical directors and producers. Alan Watson and Mike Moran have a shared musical history that goes back to 1983 when they were both studying 'light music' at Mabel Fletcher Technical College, Liverpool.
Since leaving a major recording contract in 1991 Mike Moran has traded as Triple M Productions during which time he has built a solid professional reputation as a sound engineer and recordist, composer/songwriter and musical director. Work has been generated through sound design, library album compositions, commercial music for media and advertising, and contract work in professional theatre and 'rock'n'roll'. For the last nineteen years Mike has lectured in sound production and music technology in higher and further education.
Alan Watson has worked professionally for thirty years. During this time he has worked as location sound recordist and in audio post production for film, TV and radio. He has produced, performed, composed and recorded as a musician in jingles, radio and television, advertising, theatre and film. His clients have included BBC TV, BBC radio, Granada TV, Channel 4, Channel 5, EMAP radio. For the last fifteen years Alan has also lectured in sound and music technology in various further and higher education institutes.